This weekend I found my joy in gaming again. I decided to give up completely on Champions Online, also cancelled my lingering Vanguard subscription, and even removed Age of Conan from my harddisk. It was time to play some great standalone games. Thanks to birthday boy Lani (Happy Birthday!!) I can now be with the force and play KOTOR.
But in stead of stepping into the world of Star Wars I decided to finally install Mass Effect. While it was installing and patching (I saw I could download some upgrades, so I did), I decided to visit Steam as well. And there I saw Braid was on weekend offer. I had heard that is was great game, but didn't really know too much about it. Still I couldn't let it pass so I bought it.
I was sort for thinking Mass Effect will pull me in completely, so let me start with Braid while cooking and fussing about in the house. That didn't work out so well. Braid is brilliant! The atmosphere, the puzzles, the story, the complete new concepts, it is all perfect! Since I got utterly absorbed by Portal earlier this year I haven't seen anything as good. It is that good!
In a near trance I had to finish "World 2". And I did. I could have gone on longer, but I really did want to what Mass Effect was all about. But Braid is great, no, brilliant. It makes the explorer in me jump for joy.
From the enormous positive comments Lani had made about Mass Effect I knew it had be a great game. But I was a bit worried it would be lost on me. But no, it wasn't. Basically from my first action (I got to tell the pilot to shut up!) I was pulled in. The immersion is amazing! Everything feels so real, and so immensely large. The sheer number of people you could talk to on the ship even before you go anywhere is impressive!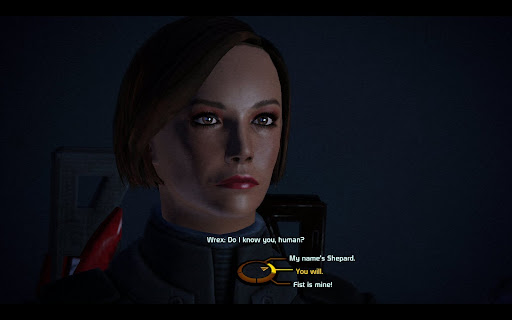 Also very impressive is that the facial changes you make at the start are really carried forward to every scene. I am just baffled at the enormopus amount of work it must have taken to make this game. I am probably even the most in awe with that.
Although far and apart it is a FPS game. Which means I have to move around with WASD and look with the mouse. Something I am no fan of at all. But I seem to manage quite well. They must have found the perfect balance somehow. Or the story is just that compelling I don't even notice my own reflexes.
By 2am on Friday night I had almost managed to rescue the beacon, but couldn't find the last bomb. So it was game over and high time for bed. But I was hooked!
So now I have two game going that are both so brilliant it pains me that I am not playing them right now. And I haven't even looked at KOTOR yet. Do I really have to go to back to work tomorrow?